It's Purim, Send Mishloach Manot Online!
Posted on

February 4, 2019 1:45:10 PM IST

in Blog by

nadav arts
Purim is that Holiday that always seems to sneak up on you. In between coming up with great costumes and inventive ideas for your kids' Mishloach Manot parcels, your own Mishloach Manot may fall to the wayside.
Don't let your Mishloachei Manot fall behind! Purim is a perfect time to send a gift of love to those who you love. We've come up with a series of stunning, unique and absolutely delectable Mishloach Manot baskets which are ready made, ready to order, and ready to be shipped worldwide to those who you love. Check out our choices below!
This colorful Mishloach Manot is a feast for the eyes, nose, and taste buds from the moment you open it! Featuring four stunning liquor cups in your choice of colors with four matching napkin rings from Nadav Art, a small bottle of fine wine, waiting to be poured into the gorgeous cups, TWO bars of chocolate in a choice of flavors and fillings, and a box of assorted pralines because, well, isn't life a box of chocolates?!
Available in two different styles, 1 with colorful liquor cups and matching napkin rings, and the other with colorful cups and napkin rings with a smooth silver finish.
A Mishloach Manot set celebrating Jerusalem in every way possible, that's ready to be sent online anywhere in the world? Count us in! Yup, we've got chocolates-TWO boxes of pralines, a chocolate bar, and some fun and delicious chocolate bark, as well as a small and portable bottle of fine wine. This crown of this delectable set is a sterling silver Kiddush cup and plate decorated with colorful enamel shaped like the city of Jerusalem! Delicious, meaningful and a perfect Mishloach Manot to send abroad to loved ones.
If you're more of a classic person, pick this mouthwatering Mishloach Manot with a sterling silver hammered Kiddush cup and two matching liquor cups. Lchaim!
This Mishloach Manot is ready to be sent online to a loved one who has a special place in your heart. The crème de la crème of the Mishloach Manot sets, with a gorgeous mixed box of 25 pralines, chocolate bars and bark, hazelnut cream hearts, and a large bottle of Jerusalem Vineyards Wine.
Choose your Judaica! The first, glittering choice is a stunning silver cup with a base created out of silver stems and studded with sparkling amethyst stones, with two matching amethyst napkin rings.
The second, classic choice features a silver cup with an intricate silver cut out stem and base and matching decorated plate, with four complementary silver napkin rings with delicate filigree rims.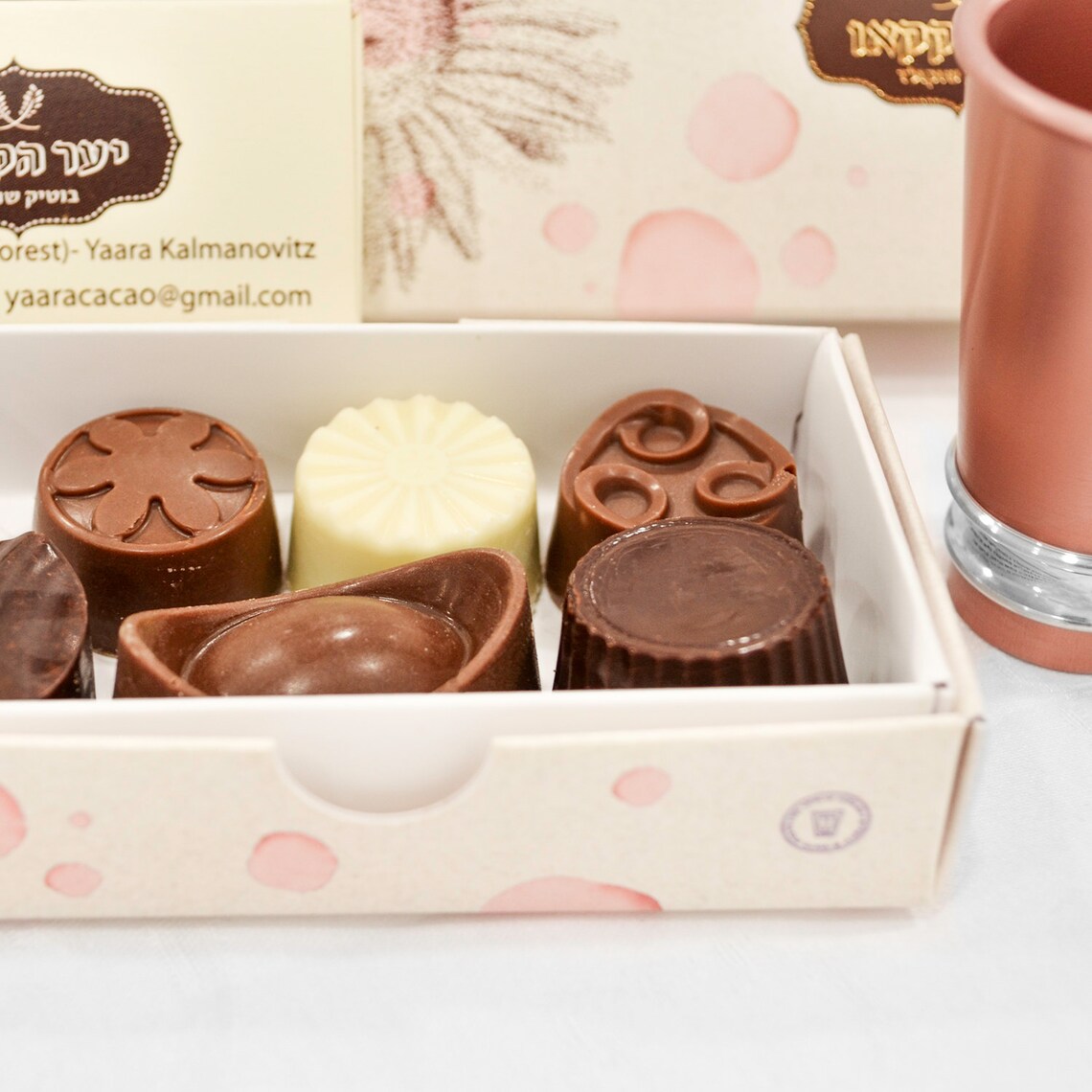 So, you really don't have to stress this Purim, because whether you just forgot, need something extra special, or want to send Mishloach Manot abroad, we've got a whole range of absolutely special gifts to choose from. FREE express shipping worldwide, send Mishloach Manot online now! You're welcome ;)
You must be logged in to post a comment.
click here to log in